CONTENT-AWARE VIDEO-CODEC TUNING
Reduce video streaming&storage costs by 20% in average
after changing 1 line of encoding pipeline
What we do?
We analyse video codecs and find best encoding settings for given videos. Our settings improve encoding performance: faster encoding, less bitrate or better objective quality
Video-codec tuning is a process of codec optimisation for particular tasks, such as compression of specific videos (CCTV, interviews, CGI etc.) or working at given speed limits by variating encoding settings
The challenge of video-codec tuning
Standard encoding presets are usually tuned by the developers to work efficiently in average for all variety of encoding cases. Adjusting your codec for content it works with allows to utilize unused reserves of video codec and boost its performance
Is it simple to find good encoding settings?
Let's consider an example: tune x264 for one 20-seconds video
x264 has ~50 encoding settings
Different combinations of settings influence encoding performance unpredictably
Exhaustive search for optimal settings

will last 22,000,000,000,000 centuries (~488,000 Earth ages!)
Our algorithms can tune any video codec for your videos
in just a few days
Reduce video streaming, storage and compression costs by 15% in average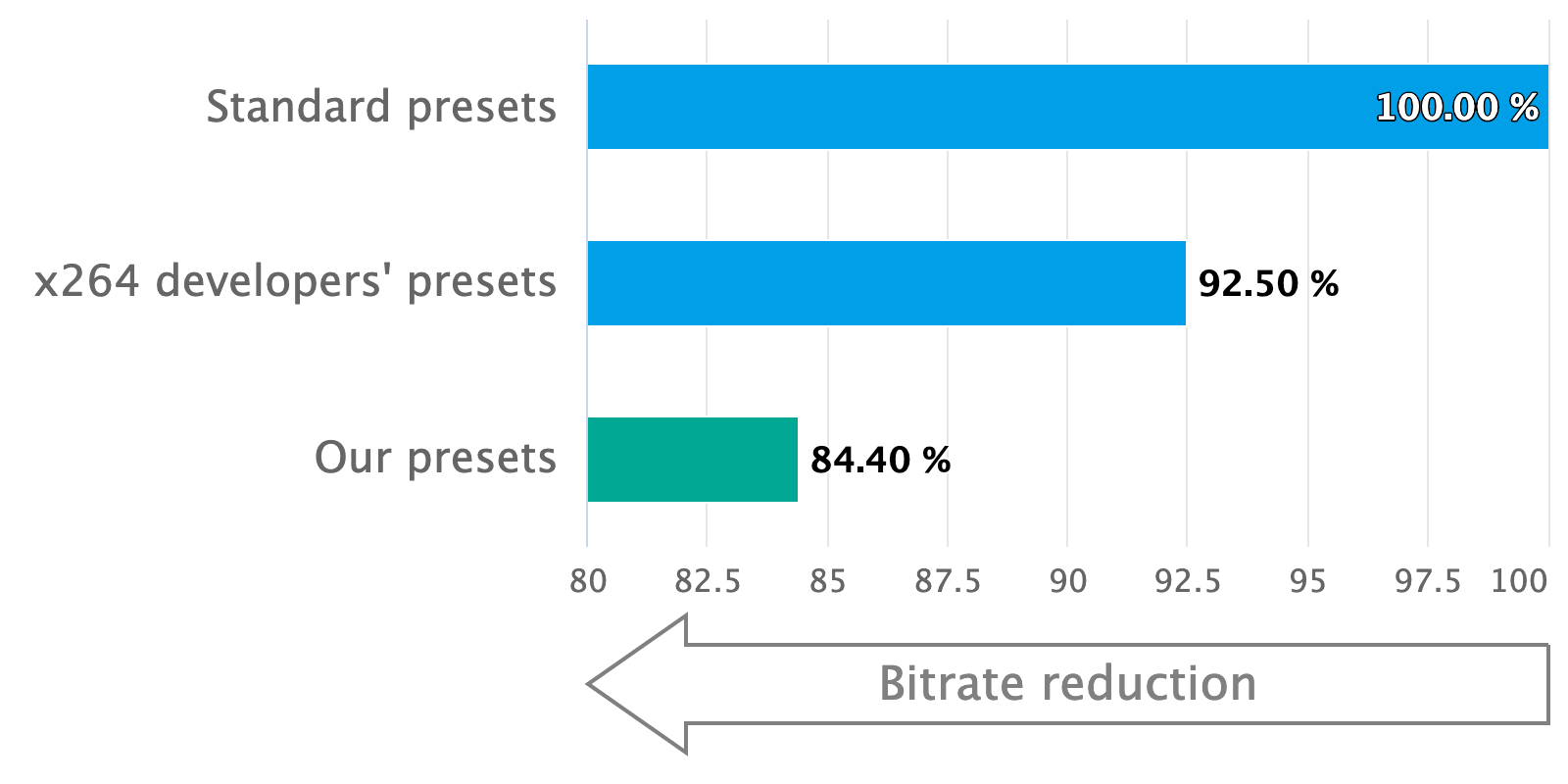 Codec tuning allows to decrease video size and encoding bandwith:
up to

40% less
 bitrate

with the same
 encoding time and video 
quality
up to

10 times faster


with the same bitrate 
and encoded video 
quality
For example, our settings for x264 encoder optimized for a set of 77 different videos produces 15% less bitrate than standard presets and 8% less than developers' presets which were tuned by the developers specially for worldwide comparisons
Advantages of our approach
Works with all video encoding use cases
All kinds of videos: CCTV, Ads, Movies, Self-driving, Aero, etc. Any use cases: online streaming, universal or ultra-high-quality encoding. Validated on 20000+ real videos
Any video-codec or cloud encoding service
Our technology is codec-independent, it works with codec mathematical model and requires only the access to encoding options, which meaning may be hidden
Keeps video quality and can make it better
With our technology video file size decreases without quality loss. Our optimization algorithms work with any target quality, bitrate and encoding speed
Do you want to optimize your encoding?
OK! You will find your report
on your e-mail.
Error!
Don't believe it will work
for your videos?
Let's try a free demo!
Send us your video, we will optimize
3 codecs for it and show you the results
See more in our presentation
Frequently Asked Questions:

How long does codec tuning take?
Does it affect objective quality?
What gain can we achieve?

More about products and services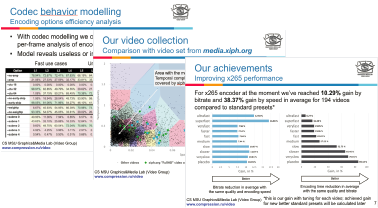 About us
Our team has 15-years experience in video encoding and processing. We analyse video codecs and find their strong and weak points to find optimal encoding configurations which deliver higher encoding profit